Mt. Olivet UMC Cemetery Fund Brings Peace of Mind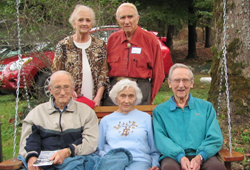 During the past 50 years, Nolan Ragsdale's passion for preserving the resting places of the saints at Mt. Olivet UMC Cemetery in Banks County has never waned. As his health declined, however, he began to worry about the cemetery's fate after he was gone.
Fortunately Nolan's niece, Carolyn Roebuck of Douglasville, discovered that the Georgia United Methodist Foundation could help.
"I was serving as a delegate at the 2012 Annual Conference in Athens and just happened to read a newsletter article about the Foundation's ability to manage funds," she said. "I thought this may be an avenue where my Uncle Nolan could invest his money for the perpetual care of this cemetery."
Nolan was born and raised in Homer. He is a World War II veteran and a graduate of the University of Houston. In the 1960s, he returned to his hometown after accepting a position as an auditor for the Georgia Public Service Commission.
He was dismayed to discover that the Mt. Olivet UMC Cemetery had become overgrown with trees. "This cemetery is so important to us because it's part of our childhood. We have relatives buried there," said Nolan's 89-year-old sister, Marie Creel of Doraville. "Nolan took charge of that cemetery and cared for it until he got too old to do so. Then, he paid someone to do it. This went on for years."
Nolan began raising money for the perpetual care of the cemetery. He experienced great difficulty until Frank Garrison pledged $3,000 while on his death bed. Frank is the great-grandson of Mt. Olivet UMC Founder Francis Marion Ragsdale and the great-great-grandfather of Ruth Alexander, who now serves as secretary/treasurer of the Mt. Olivet Cemetery Association.
"He put in a great deal of his own money and kept this money invested so that it would draw interest. He had tried and tried to find some organization that would take the money and be in charge of the perpetual care of the cemetery," Marie said. "Nolan was getting very upset and frustrated. He's 92-years-old and didn't want to die and not have this set up. Finding out about the Foundation was a God-thing for Nolan."
The Gainesville District of the North Georgia Conference, which owned the cemetery, was willing to transfer title of this property to an appropriately organized cemetery association. Retired Foundation President Rev. Charles (Chuck) W. Savage II worked closely with Nolan, Carolyn, Marie and several other interested parties to form the Mt. Olivet Cemetery Association. Carolyn currently serves as president, while her mother, Marie, serves as a trustee.
Using the monies Nolan raised, the Foundation established the Mt. Olivet Cemetery Fund. The principal will remain intact. Any interest earned will be disbursed on a quarterly basis to provide for the perpetual care and maintenance of the cemetery.
This article was originally published in the Winter 2014 edition of Faith & Money, a publication of the Georgia United Methodist Foundation.