Endowment Enables Warren Memorial UMC to Reach the Next Generation of Believers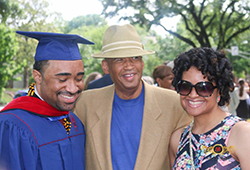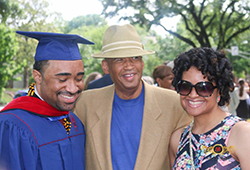 When Mark O'Riley, lay leader at Warren Memorial UMC in Atlanta, Ga., wants to communicate with his children, he turns to Instagram. This is a sign-of-the-times as today's tweens, teens and young adults use social media to text, chat, meet people, and share pictures and videos.

It's one thing to connect with your children, but how does a traditional church with an aging demographic attract the next generation of believers? The solution for Warren Memorial UMC came from O'Riley's son, Christopher, who received his master of divinity degree from Perkins School of Theology in Dallas, Texas.

"Fourth year students at Perkins do a paid internship where they take what they learned in the classroom outside the walls. It dawned on me that this would be a good thing to try at our church because we don't have the means to afford a full-time youth pastor," O'Riley said. "This concept would allow a student to gain practical experience as they prepare to go into ministry, while in turn helping to develop a youth program within our church."

Rev. Donald K. Reed, Sr., former senior pastor of Warren Memorial UMC, became very excited when he learned of Mark's idea. "Warren is in such a unique place. Clark Atlanta University, Spelman College, Morehouse College, the Morehouse School of Religion, Morris Brown College and Gammon Theological Seminary are all located within a mile of the Church," Rev. Reed said. "There are a host of talented young people who are called to ministry. This internship program will give the youth minister an opportunity to use his or her gifts while connecting with a church. It will also allow us to minister to the youth in our church and the students on these campuses who are away from home. It's a win-win opportunity for all of us." O'Riley is so committed to his church's future that he established the Warren Memorial UMC Youth Pastor Endowment with the Georgia United Methodist Foundation. "My goals are to raise $6,500 in the short-term, $12,000 in the long-term and $3,000 every year after that so that the program becomes self-sufficient," he said. "The idea is to maintain a solid base that generates enough interest over time to pay a part-time youth pastor's salary for one year."

Several families, including longtime members Joel and Sandra Harrell, have also donated to this fund, which doesn't directly impact the Church's budget.

"We saw this as an opportunity to support ministry that is critical to the continued growth of Warren and as a way to better serve the surrounding community that is abounding with young people," Harrell said. "The youth pastor will be able to make a tremendous difference by offering guidance, providing detailed structure and programming, developing social media within our ministries, and communicating the word of Christ in a way that reaches the youth."

This article was originally published in the Georgia United Methodist Foundation's 2014 Annual Report.