Nacoochee UMC Legacy Ministry Chair Leads by Example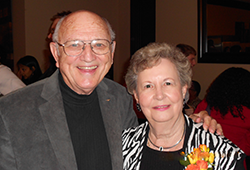 Nacoochee UMC in Sautee Nacoochee, Ga. recently completed the Georgia United Methodist Foundation's 12-month Legacy Ministry Webinar program. This planned giving initiative resulted in the establishment of an endowment that will provide for the future ministry and needs of the Church that are not addressed by the annual budget.
Legacy Ministry Endowment Committee Chair, Paul Watkins, and his wife, Milene, gave the first legacy gift. Although they have been members for 20 years, Paul's ties to the Church date back to 1946.
"I felt like I needed to set an example of giving. We are the beneficiaries for the sacrifices and gifts made by members here long before we came to Nacoochee UMC," he said. "We received a legacy when our church was established in 1832; when it was reconstructed after it burned to the ground in 1943; and again when we built a beautiful fellowship hall/education building in 2000. I am thankful that they put effort and time to provide for us today."
Paul highly recommends the Legacy Ministry program. "This is a very worthy, thorough, informative and helpful webinar presentation. The program covers so much. It's good you can go back to
gumf.org
to review sessions and materials," he said. "We would like to thank the Foundation for providing the resources and training for us. We could not have established this program without their help."
Depending upon their ministry passion, members may leave legacy gifts that support everything from their future building fund and children's, youth and worship ministries to missions, scholarships, capital improvements, cemetery upkeep, and property maintenance.
For more information on the Legacy Ministry Webinar, please contact Nancy Young (678-708-6601 or
nyoung@gumf.org
) at the Georgia United Methodist Foundation.
This article was originally published in the Winter 2015 edition of Faith & Money, a publication of the Georgia United Methodist Foundation.