East Cobb UMC Prepares for Largest Wealth Transfer in U.S. History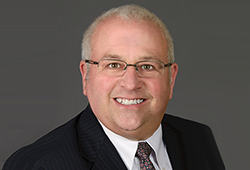 During the greatest wealth transfer in U.S. history, it is projected baby boomers will pass down over $50 trillion to the next generation. The Georgia United Methodist Foundation's Legacy Ministry helps churches develop planned giving initiatives so churches will be positioned to receive a portion of these funds from faithful givers who want to have an impact for God even after death.
In 2014, East Cobb UMC in Marietta, Ga. enrolled in the Foundation's 12-month training following the recommendation of member Jim Rogers, who now chairs their Legacy Ministry Committee.
"I am shocked at how much wealth is going to be transferred and how ill-prepared we are as individuals, institutions and as a society," Rogers said. "Not too long ago we had some appreciated stocks and tried to gift them to our church; however, there wasn't a process in place to handle the transaction. So rather than forego the gift, we cashed in the stocks, paid taxes, and gave the money to the Church.
"My wife, Val, and I have four children and in setting up our own estate plan, I realized just how complicated the process can be. Although I constantly get bombarded with requests for donations from my college, associations and other entities, I can't think of a better place for wealth to go than to the Church."
Rogers learned through meetings that the Foundation provides access to the information needed to help people understand estate planning, as well as how to transfer wealth with the least adverse tax implications. He also liked the fact that the Foundation, which shares the principles of Methodism, offers funds where these monies can be invested and professionally managed.
"The key for our church family in developing an endowment is to have a perpetual source of income that provides an opportunity for people to make a lasting gift, while allowing us to fund ministries that are not necessarily included in the general budget," Rogers said. "There is a huge appetite in our church to participate in more missions and to host more events for organizations in the communities."
Once it is established, legacy gifts in any amount may be made to East Cobb UMC's general endowment fund, as well as four other specific funds such as children and youth ministry and missions. A new fund may also be named in memory or honor of a person or designated for a specific purpose with an initial gift of $50,000 or more.
"I want people to know and hope that everyone understands it's not the amount that's important. It's the act of participating in this opportunity, which will bring them a different level of joy knowing that they are contributing towards the future of their church and God's kingdom," Rogers said.
Without the Foundation's Legacy Ministry Training, he admits that they would be lost. "The training has taken us step-by-step through the process of understanding endowments, preparing materials and presentations, and formulating our brochure, website material and marketing plans," Rogers explains. "Thanks to the Foundation, we're providing an avenue for people to further God's kingdom and making provisions for future generations to grow in their faith and spirituality.
"Churches that do not develop a planned giving program are missing a big opportunity to fund current and future ministries. They are also denying their members the opportunity to give back to their church in a very significant and special way, whether it's a gift made while they are living or through a bequest to honor and thank God for all He has given."
The Rogers not only plan on giving a cash gift to East Cobb UMC's general endowment fund, they also plan to leave a final legacy gift to their church.
"The center of our life outside our family is our church," Rogers said. "God has blessed us so much, we feel called to give all we can while we are alive and after we are gone."
The Georgia United Methodist Foundation helps United Methodist churches, ministries and members in Georgia by providing planned giving, investment, lending and endowment services, as well as grants and scholarships. For more information, contact the Foundation at 770-449-6726, 877-220-5664 or info@gumf.org or visit www.gumf.org.

This article was originally published in the Summer 2015 edition of Faith & Money, a publication of the Georgia United Methodist Foundation.