Ben Hill UMC: Legacy Ministry Offers Churches Hope for the Future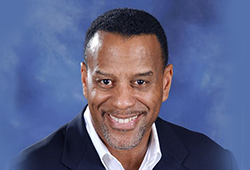 The Georgia United Methodist Foundation's Legacy Ministry Training program is leading the way in educating churches on how to receive planned gifts from faithful givers who want to continue to have an impact for God even after their death.
Thanks to the foresight of finance committee member Ernestine Garey, Ben Hill UMC of Atlanta, Ga. recently enrolled in the Foundation's 12-month planned giving initiative. In this Q&A, Pastor Rev. Byron E. Thomas shares his take on how the Legacy Ministry program offers churches hope for the future.
GUMF: What makes Ben Hill UMC so special?
PASTOR THOMAS:
Part of the DNA of this church is that our members have a desire to be biblically centered, nurturing and caring. There is an element of social activism on issues of justice, and they are very high on education. We go to Haiti every year and do a number of mission trips right here in the community as well. I am also very proud of our health and welfare ministries. Our recent brain health seminar drew over 500 people from the Atlanta metropolitan area.
GUMF: Why did Ben Hill UMC participate in the Legacy Ministry program?
PASTOR THOMAS:
This was a no-brainer for me. It was smart stewardship because this program provides the opportunity to secure the Church into the future. This is especially important in today's culture where churches are competing for dollars that are being given to colleges and other worthy causes. It was particularly rewarding that my laity brought this to me because it indicated they were assuming responsibility for their church.
GUMF: Are you involved in the 45-minute monthly webinars?
PASTOR THOMAS:
Yes. I think it's important for me to be in the loop given that we are talking about something that is really going to help shape the future ministry of the Church.
GUMF: What value does the Legacy Ministry program offer pastors?
PASTOR THOMAS:
The burden of constantly having to meet budget without reserves can be stressful on a pastor's mental and physical health. Knowing that a church has been a good steward and that it has the financial resources for the future will alleviate the pastor's stress.
GUMF: Can a single legacy gift impact people's lives?
PASTOR THOMAS:
Yes. Very often we think the difference-makers are those who have the most money, and when we juxtapose ourselves next to them, we see ourselves as not being able to make an impact. Your gift can make a difference regardless of who you are and how much you have to give.
GUMF: What is your most important takeaway so far?
PASTOR THOMAS:
The Legacy Ministry forces a church to think about prioritizing and committing to support future ministries based on who the church understands itself to be.
GUMF: Would you recommend other churches enroll in the program, and if so, why?
PASTOR THOMAS:
Yes. You take The United Methodist Church, and all the conversations have been around our demise and our decline. With this program, there is hope and optimism for the church, and if you have a hopeful outlook, then you need to put that into some type of tribute. When you leave a legacy gift, you are saying that not only will our church exist in the future, but it will be viable to the extent that you are willing to make an investment right now. You don't leave a legacy to something that isn't going to be around.
A lady passed when I was pastoring another church. As a result of her gift, we secured newer transportation that enabled us to pick up our seniors who no longer drove. Our youth and other members could also go on trips in a reliable vehicle as opposed to one where we were hoping and praying it would hold up. This gift made a huge difference in the church's ability to do viable ministry.
This article was originally published in the Georgia United Methodist Foundation's 2014 Annual Report.