Big Needs, Big Dreams: Action Ministries Comes to Newton County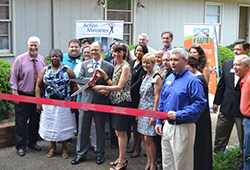 The idea just wouldn't leave me alone?
For years, Rev. Teresa Lilja, former pastor of Alcovy UMC in Covington, Ga., wanted her 60 members to be a "dot on the map" for reaching people in need.
She saw an urgent need for compassionate services for the portion of the community that struggles with poverty, unemployment, drug addiction, homelessness and hunger.
"We see a lot of hurt. We're a very small church, but the missions our folks do just blow me away. They are feeding people, distributing coats, working with a food pantry. They work very hard at it, but unless you team up with other people, your impact can only be so big," Rev. Lilja said. "We dreamed of doing something bigger."
An impactful legacy gift?
Those dreams were taken to a whole new level when Jean Davenport, a member of Alcovy's congregation, passed away and left her sizeable estate to three Newton County churches. A longtime Newton County resident, Mrs. Davenport worked at Sears, Roebuck & Co. and later enjoyed a 35-year career at Life of Georgia Insurance Company.
This generous bequest linked Alcovy UMC to Social Circle's Mt. Pleasant UMC, which was also named in the will. Mt. Pleasant UMC is heavily involved in Newton County, hosting food drives, feeding the hungry and serving local people in need.
"We had discussions with the executor of the estate to learn what mattered most to Jean," Lilja said. "She wanted to make an impact in her community, especially on families and children."
The little churches that could...
Both Alcovy UMC and Mt. Plesant UMC already had the heart for missions. Now they had the means. What was next? They desired a partner, one which brought a depth of experience and connections in the area of mobilizing communities to lead people out of poverty. Such a partnership would allow the churches to multiply their efforts and touch lives in new ways. Action Ministries fit the bill.
Action Ministries: Leading people out of poverty for 50 years...
On May 19, 2015 Action Ministries celebrated the opening of its Newton County facility at Covington First UMC in Covington, Ga.
"Bringing Action Ministries to Covington is a win-win-win situation, and that's where you find God fantastically meeting the needs of people through these little churches that so want to help," Lilja said.
Rev. Leah Cunningham, pastor of Mt. Pleasant, agrees. "We believe Action Ministries is well suited to carry out the vision of ministry and mission in our community that our congregation and the benefactor felt was important," she said. "Action Ministries was barely on the ground in Newton County when they introduced the Smart Lunch, Smart Kid program, which brought churches, companies, nonprofits and government entities together to feed children. We are still seeing positive results from this summer event."
Churches partner with the Georgia United Methodist Foundation...
Both Alcovy UMC and Mt. Pleasant UMC chose to establish endowments with the Georgia United Methodist Foundation where the funds from this legacy gift could be invested and professionally managed.
"There was no doubt in my mind that we would partner with GUMF, which is a trusted resource for churches," Lilja said. "Once we learned of Jean's bequest, we enrolled in GUMF's Legacy Ministry Training program so that we had an easy yet methodical way to educate our church on how to do an endowment."
Cunningham adds, "GUMF was our choice for developing a permanent source of income to support the growing ministries of Mt. Pleasant UMC while protecting our assets. We can rest knowing GUMF invests our funds according to the Social Principles of The United Methodist Church. In addition, GUMF supports Georgia churches with loans and financing, so we are proud to be a part of that connection, too."
This article was originally published in the Fall 2015 edition of Faith & Money, a publication of the Georgia United Methodist Foundation.
The Georgia United Methodist Foundation helps United Methodist churches, ministries and members in Georgia by providing planned giving, investment, lending and endowment services, as well as grants and scholarships. For more information, contact the Foundation at 770-449-6726, 877-220-5664 or info@gumf.org or visit www.gumf.org.