Family Legacy Inspires Braswell-Savage Scholarship Fund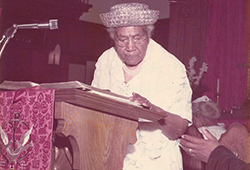 In 1896, the U.S. Supreme Court ruled racial segregation constitutional in the landmark case Plessy v. Ferguson, barring black Americans from having equal access to public facilities. During this era, a large percentage of the black population were also denied the opportunity to learn how to read and write.
In 1897, a young woman named Elizabeth Riley graduated from Claflin College. This university, which is located in Orangeburg, S.C., has Methodist roots. Riley became a teacher, passing her passion for education on to her daughter, Lillian R. Barbour of Roswell, Ga.
"She was a Riley who married a Riley and died when she was 103. There were 12 children in her family. Her brother, James, and her sister, Lillian, also went to Claflin," Barbour explains. "When my mother went to college, we were not free to go to the white universities. In some instances, the black people in the community set up their own colleges so that their children could be educated. My mother's family was very forward-thinking. Although she never shared how it was possible for her to get an education, there were some things that were just expected of some children, and I think that encouraged her. When it was time for me to go to college, my mother just looked at me and said, ?Have you decided what college you are going to?'"
The United Methodist Church has provided a rich spiritual and educational foundation for her family. Barbour and her daughter, Lisa Jo, graduated from Morgan State University, which was founded in 1867 by the Baltimore Conference of the Methodist Episcopal Church.
"I've always been active in The United Methodist Church and started teaching Sunday school when I was 10. My church was my family, and they always encouraged me to do my best. I am 97-years-old and am still very active at Christ UMC in Roswell," Barbour said. "I am grateful that my mother, because of her background, expected me to become a worthwhile citizen who helps others. I taught school for 35 years knowing that I was the parent away from home. I treated the children as if they were my own children."
Rev. Charles (Chuck) W. Savage II, retired President/CEO of the Georgia United Methodist Foundation, shares her spirit of gratitude for their family legacy.
"Lillian's mother, Elizabeth Riley, was my maternal grandmother's sister. Lillian is my second cousin. For a black person, particularly a woman, to graduate from college in the 1890s speaks volumes," he said. "My wife, Mary, and I wanted to do something that would allow scholarships to be given to Methodist students in Georgia who go to Methodist colleges because our family was moved forward because of The United Methodist Church. After prayerful consideration, we established the Braswell-Savage scholarship fund with GUMF. While Elizabeth Riley was the motivation, we chose to name it in honor of our parents."
A $20,000 legacy gift from the Savages will fund one $1,000 scholarship per year in perpetuity. Thanks to the United Methodist Dollars for Scholars program, Methodist students may also be eligible to receive matching support from their church, the United Methodist Higher Education Foundation, and participating United Methodist-related colleges, universities, and seminaries.
"There are 118 United Methodist-related schools in the U.S., and that is a phenomenal investment in education," Savage said. "It is our opinion that they will provide a sound foundation based on what they teach and the values that they instill."
Barbour adds, "I am so grateful to Chuck and Mary. Education makes such a difference in a person's life. It helps them to become attuned to everything around them, to see beauty in nature, and to appreciate artwork, music, and the personhood of each individual."
If you would like to establish a scholarship, but are unable to fund the $20,000 in one lump sum, Savage has some recommendations. "Save up over a 3-, 4- or 5-year period," he said, "or find a group, such as one or two Sunday school classes, to help you reach your goal."
This article was originally published in the Fall 2015 edition of Faith & Money, a publication of the Georgia United Methodist Foundation.

The Georgia United Methodist Foundation helps United Methodist churches, ministries and members in Georgia by providing planned giving, investment, lending and endowment services, as well as grants and scholarships. For more information, contact the Foundation at 770-449-6726, 877-220-5664 or info@gumf.org or visit www.gumf.org.