The Give it Twice Trust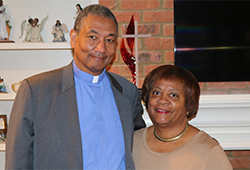 Rev. Charles (Chuck) W. Savage II retired as President/CEO of the Georgia United Methodist Foundation in 2016. He currently serves as Retired Supply Pastor to Sardis UMC in Atlanta. He and his lovely wife, Mary, have been married more than 50 years. Their passion for their family and The United Methodist Church led them to establish a "Give It Twice" trust through GUMF.
GUMF: What is a "Give It Twice" trust?
Rev. Chuck Savage II: The objective of a "Give It Twice" trust is to provide the same amount of money to both the non-charitable and charitable beneficiaries. It is a special use of a Charitable Remainder Unitrust (CRUT). We have chosen a term of 20 years based on the underlying assumption that the trust will earn at least 5% annually (i.e. 5% x 20 years = 100%). This means that all of the non-charitable distributions will be covered by the earnings. This assumption seems sound since the annualized earnings for GUMF invested funds for the last 10 years have been 6.17%.
This is a testamentary trust, which means it will be funded by the remaining IRA funds when I pass away. It is based on one life, Mary, and then the trust will pay income to our grandchildren for a term of 20 years. After the 20-year term expires, the remaining corpus goes to GUMF. The foundational principle is that the individual needs to have a desire to provide for the operation of the charitable beneficiary, which in our case is The United Methodist Church.
GUMF: What impact has establishing this trust had on your family?
Rev. Chuck Savage II: The impact has been twofold. First, we know that it will provide some resources for our grandchildren. Our oldest grandchild is 18 and our youngest is 10. Considering that the average life span for African Americans is 75, we may not be here to help with their college or graduate school expenses or to help them with their first home.
Secondly, we hope GUMF will choose the Braswell-Savage Scholarship Fund, named in honor of our parents, as the final recipient of the trust. We take comfort in knowing that we will help someone else get an education. One great motivation for this scholarship fund is our great aunt, who graduated from a Methodist College, Claflin University, in 1895. The Methodist Church gave her an opportunity for a college education at a time when African Americans did not have a wide range of options.
GUMF: Can you establish this type of trust if you don't have children or grandchildren?
Rev. Chuck Savage II: Yes. CRUTs can be established for any non-charitable beneficiary with the remainder going to the church or ministry that you choose. CRUTS may also be established for your own personal benefit. These trusts may be testamentary or they may be for a specific term.
GUMF: What types of assets are commonly used to fund this type of trust?
Rev. Chuck Savage II: Any asset may be used to establish this type of trust. There are specific rules that govern assets that are non-liquid. However, a substantial benefit may be received from using highly appreciated assets to fund this type of charitable gift.
GUMF: Do you have any recommendations for someone who is interested in establishing a "Give It Twice" trust?
Rev. Chuck Savage II: It doesn't make sense to establish a trust with less than $50,000. You will need an attorney to draft the documents for this type of trust. Consulting with a financial planner to determine which assets would provide the best financial benefit would also be advised. Once these things have been determined, then meet with GUMF to set up the trust for administration.
GUMF: Are you able to specify how your funds should be invested?
Rev. Chuck Savage II: My experience with GUMF gives me confidence that allowing GUMF to select the mix on long-term investments is the best alternative. The knowledge and skill level of GUMF's Investment Committee gives us a great sense of security.
GUMF: How does this legacy gift honor God?
Rev. Chuck Savage II : Check out 1 Peter 4:10. The Bible also tells us that everything belongs to God. And Jesus tells us, "From everyone who has been given much, much will be demanded; and from the one who has been entrusted with much, much more will be asked." Therefore we should use our resources to further the kingdom of God. The mission we have been given is to make disciples and to provide for the widows and orphans. We feel grateful that God has allowed us to be in a position where we can do something like this.
GUMF: How does this trust help to sow seeds of faith for future generations?
Rev. Chuck Savage II: Our hope is that whatever or whoever benefits from what is provided will recognize it as a gift from God, and that they will know that God is their Jehovah-jireh (Genesis 22:14). We are blessed to simply be the conduits of what really belongs to God.