Paying it Forward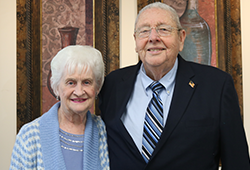 Jerry and Jackie Perry of Norcross, Ga. have been married 54 years. Prior to retirement, Mr. Perry worked as a Railroad Detective for 35 years, and Mrs. Perry served as an Elementary Education Teacher and Administrator for 30 years. They have no living relatives. Over the years, they have often wondered what was going to happen to their estate after they are gone.
In 2013, Rev. Charles (Chuck) W. Savage II, retired President/CEO of the Georgia United Methodist Foundation, helped the Perrys establish a scholarship fund and a Charitable Remainder Unitrust that will carry on the work of the Church.
"Our financial advisor referred us to the Foundation because he knew how much we love The Methodist Church. We fell head over heels with all that the Foundation represents. The mission statement says it all: Sowing seeds of faith for future generations," Mrs. Perry said. "The Foundation came to our rescue. Chuck directed us as to what we needed to do, and we feel relieved, at peace and so blessed."
THE GERALD AND JACQUELINE DAVIS PERRY SCHOLARSHIP ENDOWMENT
Mr. Perry never forgot that he was able to attend college because of a scholarship. Now he is paying it forward.
"When I was getting ready to graduate from high school, my preacher asked me where I was going to college. I said that I'm not going to college because my daddy is a police officer, and he doesn't have the money," Mr. Perry shared. "About a month later my preacher said, 'How would you like to go to Reinhardt College? I got you a scholarship, and you can work whatever jobs are at the school to help pay the tuition.'"
"My parents sacrificed in order for me to go to college. Education is dear to our hearts," Mrs. Perry adds. "Through the Foundation, we can help sow a few seeds of faith by providing scholarships to deserving Methodist youth along their spiritual journey."
The Perry's Scholarship Fund benefits select Methodist students who choose to become ministerial applicants. Their first thank you note came in the form of a handmade cross-stitched Christmas card from scholarship recipient Kristi Painter, who attends Candler School of Theology in Decatur, Ga.
"We have it framed and look at it every day," Mrs. Perry said. "We feel so blessed to be able to help others receive some of the advantages that they may not have been able to experience had they not had the scholarship fund provided for them."
CHARITABLE REMAINDER UNITRUST
GUMF helped the Perrys develop another planned giving strategy. "Over 30 years ago, we bought two lots in Dawson County thinking that we might build a home there after we retire," Mr. Perry said. "But as time went along, we changed our mind. During one of my visits with Chuck, I asked if the GUMF accepts property as a donation, and he said, 'Yes.'"
The Perrys donated the land to GUMF. Proceeds from the sale of the property were used to fund a Charitable Remainder Unitrust. As a result of their donation, the Perrys bypassed capital gains tax, increased their annual income, and received an immediate charitable income tax deduction. After they pass away, the remaining principal will be distributed to a United Methodist cause.
THE PERRY'S LEGACY
When asked about the legacy that they want to leave, Mrs. Perry replied, "We want to be remembered as giving, caring, and full of faith individuals who want to help advance the educational status of others so that they can become spiritual leaders."