The Legacy of Rev. Louis and Millie Gholson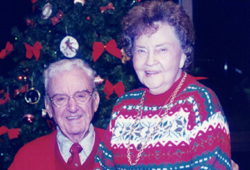 Rev. Louis Gholson and his beloved wife Millie of St. Simons Island may be gone, but they will never be forgotten. An endowment established with the then South Georgia United Methodist Foundation ensures their love of God and devotion to The United Methodist Church will live on forever.

For 26 years, Louis served as a pastor and chaplain in The South Georgia Conference of The United Methodist Church. Millie served alongside him throughout their 50+ year marriage.

Louis and Millie worked part-time at Epworth By The Sea after retiring there in 1975. They became close friends with Joel Willis, who currently serves as its President and Chief Executive Officer. Before his death in 1995, Louis named Joel executor of their estate. Louis asked Joel to take care of Millie, which he did, until she passed away in 2000.

"They were good solid folks. This is a couple who made very little money, but what little they had, they wisely invested for the long-term," Joel said. "They saved all of their life, and then they gave it all away to the Church. They didn't do it for themselves. They did it for Jesus Christ!"

Louis and Millie gave generously to causes involving children, the elderly, and individuals with developmental disabilities. They also supported ministries that establish new churches, enhance worship experiences, and improve retirement benefits for preachers.

Millie's last will and testament directed the Foundation to establish the Louis E. and Millie Coats Gholson Fund. The Foundation was instructed to invest these funds and then to distribute the income annually to South Georgia Conference entities including the Board of Pensions, Epworth By The Sea, the Foundation of Methodist Home for Children and Youth, Golden Cross, Magnolia Manor, New and Revitalized Church Development, and Wesley Glen Ministries.

"It's one thing to be committed to a ministry, and it's another to leave a legacy gift. All the ministries they supported during their life, they wanted to continue supporting after their death," Joel said. "Millie and Louis have done their part to ensure that the Church will continue to be a positive influence on many lives for generations to come."

This article was originally published in the Summer 2012 edition of Faith & Money, a publication of the Georgia United Methodist Foundation.