Endowments Sustain Vital Ministry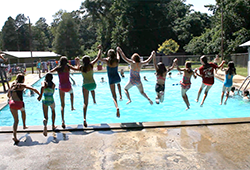 It happens almost every month! Someone who is passionate about sustaining Dooly Campground in Vienna, Ga. gives a donation to the Campground Fund at the Georgia United Methodist Foundation. Read on to learn how these endowment gifts are helping to preserve this beloved campground and its ministry for present and future generations.

"We have upwards of 10,000 people who come through the campground each year. I am the fourth generation in my family to be involved. We see this as a long-term commitment to doing God's work in Middle Georgia," said Bert Gregory, Vice Chair of the Dooly Campground Board of Trustees. "GUMF manages three endowments on behalf of Dooly Campground. One generates income that is used for maintenance. The second one is for our long-range planning needs. It was established because a donor on her deathbed wanted to ensure the campground's future. The last one resulted from a fundraising campaign. The income from this fund generates about 10 camp scholarships per year. We don't want any child to be unable to attend camp for financial reasons."

Ann Nutt of Moultrie, Ga., and her late husband, Lawrence, have faithfully supported Dooly Campground for over 50 years. "During one of my camping experiences as a youth, I was convicted and gave my heart to Christ. After graduating from high school, I served as a counselor and just loved attending camp meetings," Nutt said. "One of the teachers from camp, Rev. Harold Tucker, married my husband and me. He and his son-in-law, Rev. Tommy Mason, are so special to my family. Both of our daughters attended camp there, and the oldest chose to be married under the Tabernacle."

Nutt manages the cabin that once belonged to her in-laws. "I always feel so close to God every time I am on that property. It feels just like when God spoke to Moses, 'Take your shoes off because you are standing on holy ground,'" she said! "My prayer is that it will always be maintained and supported in a way that enables others to draw closer to God."
Rev. Jim Cowart, founding pastor of Harvest Church in Warner Robins, Ga., shares the impact Dooly Campground has had on his life, and ultimately the lives of 3,000 others. "When I was 16 years old, I was baptized in the swimming pool. Then the next year I served as a counselor at a camp that corresponded with the camp meeting," Cowart said. "I believe Dr. Dennis Kinlaw was preaching the night I felt God calling me to some kind of ministry. So I made my way to that sweet, worn altar and had a wrestling match with God. I'm happy to say He won."

This key event set the course for Cowart's life. He had planned to serve God through Lay Witness Missions in South Georgia, then the East Coast, then the United States, and then the world. "I thought God would be impressed with my plan. But He wasn't. Most of my spiritual heroes were lay people. And honestly, I wanted to stay "one of us" laity and not become "one of them" clergy," Cowart said. "That was the basis of the wrestling match I had with God. Though I didn't hear Him speak audibly, I felt His presence very strongly that He wanted me to follow Him. Before I got up from that altar I said, "Yes Sir" to God and whatever He wanted to do with me."


Cowart's call to Christian ministry led to the creation of Harvest Church ( www.harvestchurch4u.org) in Warner Robins in 2001 as a "church for people who don't go to church." Cowart said, "Over the years, we've seen over 3,000 people make a first-time commitment to Jesus and begin to follow God. Most people aren't atheists. They're just turned off and busy. But when they get a glimpse of who Jesus really is and how much He loves us, well, that's life-changing. I hope other people and future generations can have the opportunity to meet God at Dooly Campground, wrestle with Him if necessary, and find His peace and direction in the end."