Why I Believe in Giving to the Isle of Hope UMC Endowment Fund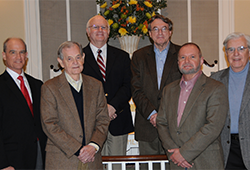 Photo Caption: From row, left to right: GUMF Vice President of Development Rev. Steve Waldorf, Isle of Hope UMC Endowment Committee Member Fred Kitchens, Isle of Hope UMC Senior Pastor Rev. Mike Ricker, Isle of Hope UMC Member Alan Beals; Back row, left to right: Isle of Hope UMC Endowment Committee Chair Steve Lewis, Isle of Hope UMC Annual Conference Lay Leader Bill Daniel
For 165 years, Isle of Hope UMC in Savannah, Ga. has been a witness to its local community, the nation and the world. To ensure this legacy of sharing Christ's love continues, the Church recently completed the Georgia United Methodist Foundation's Legacy Ministry Training Program, a critical first step toward the establishment of its endowment fund.
Bill Daniel of Savannah, Ga. joined Isle of Hope UMC in 1980. He and his wife, Linda, who had been a member since her early teens, were married at the Church this same year. Daniel serves as Vice President and General Counsel of Vaden Automotive Group and is Chairman of the Georgia United Methodist Foundation Board of Trustees.
Daniel explains why he recommended the Church establish an endowment fund with the GUMF. "I have been honored to serve as Administrative Board Chair, Staff Parish Relations Committee Chairman, and Chairman of the Trustees at Isle of Hope UMC. Generations have served the Church with their gifts of time, talents and resources. As we have evolved from a rural to a suburban congregation, the needs of our church have grown. Most importantly, several years ago under the leadership of Rev. Jim Trice, our church adopted a goal of becoming a "50-50" church whereby we began a long effort to budget as much for local, national and international missions, as we budgeted for our own congregation," he said. "Today we have attained that goal. But, in order to continue, we need a solid financial structure that will support the annual needs of our church. An endowment will allow our future congregations to continue our mission focus, our service to our community and members and operate with confidence in the maintenance of our facilities.
"It is my first hope that Isle of Hope's endowment will grow to a point we can depend upon it to meet emergency, unbudgeted facility needs. Then with continued growth, the endowment will provide the financial support to maintain our facilities for future members and activities. Finally, with an endowment assuring our capital maintenance needs, we can continue to build upon our focus to share the message of Christ to others through our "50-50" emphasis on missions."


REV. MIKE RICKER, ISLE OF HOPE UMC SENIOR PASTOR, SAVANNAH, GA
This endowment will bless future generations by making resources available where ministry can happen, plans can be made, and exciting kinds of missions can continue to take place in ways that the congregation doesn't feel limited by the financial support of the present membership.
Through the endowment, people will have an opportunity to not only sow seeds, but to plant seeds. Maybe not in the short-term, but in the long-term they can see a harvest produced from the things that they give. It says not only are we interested in investing in the present, but we are interested in investing in the future that God has for this congregation.
It's exciting when people realize someone had enough faith and devotion way back to invest in the life of the Church, and we are enjoying that now through the facilities.
I believe every single gift makes a difference. When my gift is combined with the gifts of others, I experience joy knowing that I have made a difference by contributing to something that will have a long lasting impact for generations to come. The Church is about us coming together and being a part of something larger than just ourselves individually; it's about being a part of the kingdom of God.
FRED KITCHENS, ISLE OF HOPE UMC ENDOWMENT COMMITTEE MEMBER, SAVANNAH, GA
My wife, Raye, and I joined the Church in 1969. Isle of Hope has been a real blessing to my family. Our daughter, Stephanie, grew up in the Church where she received a very strong Christian foundation. After my 33-year engineering career, I worked as the Church's administrative financial manager for 10 years.
I have had an interest in starting an endowment for a long time. Although we currently contribute to the endowment fund, we wanted to do more for when the time comes that we are not here to make gifts or provide our own personal service.
Raye and I felt so strongly about ensuring the Church's future that we elected in writing our wills to leave a percentage of our final estate to the endowment fund. Our gift will include cash, investments, life insurance, and real estate. We discussed this with Stephanie and our son-in-law, Scott, and they are strong supporters of us doing that.
Any contribution we or others make goes to the principal of the endowment fund, which is secure because only the earnings will be allowed to be spent. We have good guidelines as to how the funds are to be expended.
The endowment will help sustain the Church in the future during good economic times and bad, while enabling Isle of Hope to continue to deliver God's message to future generations.
STEVE LEWIS ISLE OF HOPE UMC ENDOWMENT COMMITTEE CHAIR, SAVANNAH, GA
I believe in giving to the Isle of Hope Endowment Fund because I would like for future generations to be able to enjoy the same blessings that I have received at this church. I have been blessed in so many ways by the great staff, the people we have had now and through the years, my adult Sunday school, and the Sunday school that my children were in. The educational opportunities are a wonderful part of it, not only the programs sponsored by the Church, but the Bible studies, the book studies, and the independent reading.
The endowment means that we will be able to set aside funds for the future that are not part of our regular budget and engage in special programs that are very meaningful to people in the Church.
It is through our missions and medical outreach in Guatemala, Honduras and Haiti that we see how other people live. It makes people understand how blessed we are and also how God will take care of everyone around the world because we are all children of God.
Endowment gifts can be made in memory of or in honor of a person. This is a very concrete way of giving to recognize people who have been important in your life.
The Georgia United Methodist Foundation helps United Methodist churches, ministries and members in Georgia by providing planned giving, loans, investment and endowment services, as well as grants and scholarships. For more information, please contact GUMF Vice President of Development Rev. Stephen A. Waldorf at 478-733-8059, 478-747-0042 or swaldorf@gumf.org or contact the GUMF's offices at 770-449-6726, 877-220-5664 or info@gumf.org.