LaGrange College Alumni Lead Scholarship Endowment Drive to Honor Retired Professor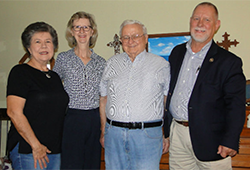 A new scholarship endowment, named in honor of Dr. C. Frank McCook, has been established with the Georgia United Methodist Foundation (GUMF). McCook spent 33 years serving as a professor and Department of Religion head at LaGrange College until his retirement in 1994.
Kathy McCollum, LaGrange College and GUMF board of trustee, and Rev. John Haney, pastor of Pitts Chapel UMC in Macon, are jointly leading this endowment drive on behalf of other LaGrange College alumni. Once fully funded, the $20,000 endowment will generate a $1,000 scholarship each year in perpetuity to benefit LaGrange College students.
"I was shocked. I was humbled, and I did not feel that I was worthy of this honor," McCook said. "My passion has been improving Christian education. I'm humbled to know that I will be assisting students in their educational process."
McCook's wife Elaine adds, "Frank is a firm believer in the Wesleyan ideology and philosophy and that educating yourself is important so that you never stop questioning and growing your faith and trying to reach a higher level."
A retired ordained minister with The South Georgia Conference, McCook holds a doctorate in Christian education. In 2016, he was named an honorary alumnus of LaGrange College. During his career, McCook helped to prepare students for ministry, led several groups of students on study abroad programs in Israel, and created the "Yes Project" to train students.
McCook also served as a supply pastor to several United Methodist churches and as chaplain to both Clan Donald USA and the Stone Mountain Highland Games. "I felt that the Word of God was an essential part of the human experience," he said. "I wanted these organizations that I was involved in to realize that they had a higher calling."
Haney has stayed in touch with McCook for over 40 years. He believes the scholarship endowment is a fitting tribute to a professor who impacted so many students' lives.
"Dr. McCook believed in me. He encouraged me, and he affirmed me. He helped me to reach my potential," Haney said. "Dr. McCook also gave me a wonderful love for Israel. When I went there with him for the first time, I got sick. He took care of me throughout the night. I'll never forget that for as long as I live."
To date, McCollum and Haney have raised nearly $7,000 of the $20,000 needed to endow this scholarship. Grants of $1,000 from the GUMF scholarship endowment are matched by the student's church, the student's school, and the United Methodist Higher Education Foundation to generate a $4,000 annual scholarship for a LaGrange student.
McCollum noted that a scholarship honoring McCook's first wife, Louise, was created in the 1980s. On several occasions, McCook and his wife Elaine had the opportunity to meet the scholarship recipients. She also noted that the cost of a private college education is high and that these scholarships help present and future LaGrange students meet some of these costs while honoring the legacy of Dr. McCook.
McCollum and Haney invite all LaGrange alumni, former students, and friends to contribute to the Dr. C. Frank McCook Scholarship Endowment Fund. To learn more, please contact Kathy McCollum at 478-731-3048 or kathymcc@bellsouth.net or Nancy Young, GUMF vice president of development, at 678-708-6601 or nyoung@gumf.org .
To make a donation, please mail your check made payable to the Georgia United Methodist Foundation to: PO Box 922087, Peachtree Corners, GA 30010-2087. Please note Dr. McCook Scholarship in the memo line.