Bishop Haupert-Johnson Scholarship Strengthens Clark Atlanta University Students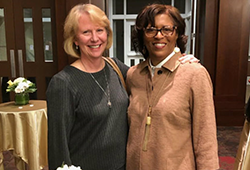 By Rev. Dr. Bernice W. Kirkland
Atlanta College Park District Superintendent of The North Georgia Conference
The Challenge
All college students enter both the exciting and challenging times of facing young adulthood and academic challenge. One challenge that students on United Methodist campuses face is the lack of awareness of our supportive connection. Calling, character, faith formation, community, financial demands, intellectual rigor, and academic excellence may all challenge student life.
Providing access to scholarship funding reminds our students that they will receive support through the plethora of transitions that affect student life. Scholarship support is rarely discounted and always remembered. Recipients often become faithful stewards in local congregations, as well as donors to institutions of higher education, all because of the gift of scholarship support.
The Goal
My late grandfather used to say, "Don't just work for money. Make your money work for you." I have not forgotten these words. My goal in establishing a scholarship endowment fund in honor of Bishop Sue Haupert-Johnson of The North Georgia Conference was to enhance clergy and congregational connections while raising dollars for scholars. My goal was to raise $20,000 toward stakeholder participation from Clark Atlanta University, the United Methodist Higher Education Foundation, and the Georgia United Methodist Foundation. I found this to be an invigorating endeavor. Everyone I asked said, "Yes!" It was exciting to ask people to give to a scholarship endowment endeavor that extends in perpetuity.
I represent Bishop Haupert-Johnson on the Clark Atlanta University Board of Trustees. This experience has enhanced my call to serve administratively as Superintendent, enabled me to meet some very dynamic leaders throughout the nation, and to provide input to the Board as it relates to The North Georgia Conference. The role of the District Superintendent is an extended role of the Bishop. I was honored to establish the fund in honor of Bishop Haupert-Johnson who categorically prioritizes mission and enhancing the quality of people's lives.
The Impact
Scholarship funding is a continuous legacy that strengthens both academic excellence and generational vitality. It is an invaluable gift that keeps on giving. I raised $25,000, which includes one matching grant. All funds were raised through conversations with donors. They became excited about the goal of supporting Clark Atlanta University students, receiving a matching grant for their donations, and at the opportunity to pay tribute to Bishop Haupert-Johnson. Partners were largely pastors and their congregations.
Through the Clark Atlanta University Bishop Sue Haupert-Johnson Endowment Fund, recipients will:
· Know that they are not alone in their quest for scholarships.
· Release stressors related to financial demands.
· Provide greater focus to academic excellence.
· Understand the significance of giving.
· Understand and better appreciate the United Methodist prioritization of higher education.
· Pay it forward through their giving after graduation.