Northside Bible Class Honors Dr. G. Gil Watson with Endowed Scholarship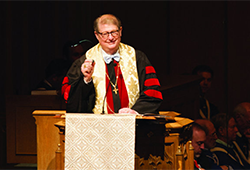 In June 2017, Dr. G. Gil Watson retired after faithfully serving the North Georgia Conference for 49 years. His last 23 years in ministry were spent serving as Senior Pastor of Northside Church in Atlanta.
"Northside has always been a mission-minded church," said Dr. Watson. "We realized we weren't just a church as a building or a place, but that we were responsible for heading out to make a difference in the world and right here at home, too."
The Northside Bible Class took Dr. Watson completely by surprise when the members voted to honor his ministry with a perpetual scholarship to Candler School of Theology.
"With gifts ranging from $20 to $6,000, our members conveyed $22,000 to the Georgia United Methodist Foundation to establish the Dr. Gil Watson Scholarship Fund," said Charles Cobb, Class Treasurer.
Class member Bebe Burnett adds, "The Northside Bible Class was inspired to give because Dr. Gil has enriched the lives of so many people with his wonderful influence and Christian example for over 49 years. His ministry has blessed so many with his happy, smiling, thoughtful, unselfish, and welcoming ways. Just his presence alone makes everything seem better. People come and go into our lives, but some stay and live in your heart forever - that is Dr. Gil."
"I was really humbled because I love Candler School of Theology and went there on a scholarship. If I had not had the scholarship money to help me, there would not have been any way for me to go. I think the greatest gift in the world is to help fund the education of a student who loves the Lord and wants to do God's work," Dr. Watson said. "I deeply appreciate the class and the honor they gave me by giving this scholarship in my name. I am also grateful for the privilege of having served Northside Church. It is a wonderful church that cares about bringing hope and love to people around the world."