Unexpected Endowment Transforms Foundation's Ministry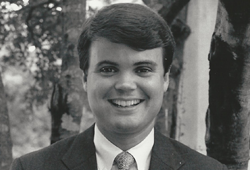 Have you ever been blessed by a random act of kindness? Maybe some thoughtful person took the time to mow your lawn or prepare a meal for you when you were sick. It's a wonderful feeling that touches your heart and soul.

Imagine being on the receiving end of a gift so large, from a family you have never met, that it transforms your ministry forever? That's exactly what happened in 1990 to the then North Georgia United Methodist Foundation.

"Henry Bowden Sr., a devout Methodist and prominent Atlanta attorney, assisted Lilla Mae Stanton Walthour and her sister, Lena Stanton De La Perriere, in naming the Foundation as a beneficiary in their wills," said Elijah F. Moore, Trustee Emeritus and former Loan Committee Chair. "One day he called to say that we had received a $1 million bequest. We were all so surprised."

At the time of the bequest, Moore had been serving for two years as the Foundation's volunteer executive director. "We invested the funds right away and used the income and principal that was needed to employ an executive director," he said. "The gift became the core of the Foundation's undesignated funds, which in the early years, sustained vital operations. It established a critical platform from which the Foundation could grow to where it is today. Without it, we would have moved along at a very modest level for many years."

The Rev. Robert Fletcher became the Foundation's first full-time employee in 1991. Over the years, support staff and resources have expanded to better serve the stewardship needs of United Methodist churches, entities and individuals in Georgia. Assets managed have grown from $3 million to $89 million. The Foundation's programs now include loans, fundraising and enhanced investment and planned giving services, endowments, grants and scholarships.

"This act of generosity was a marvelous thing," Moore said. "These sisters exercised their faith in other Christians in order to expand the kingdom."

This article was originally published in the Georgia United Methodist Foundation's 2010 Annual Report.