Former Foundation Director Weyman Cleveland Leaves a Lasting Legacy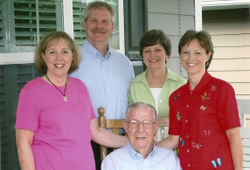 When Dr. Weyman Cleveland of Thomasville, Georgia passed away on July 11, 2009, he left behind a legacy of love, faith and stewardship.

Weyman devoted his life to serving the Lord. He graduated from Wheaton College in Wheaton, Illinois and Princeton Theological Seminary in Princeton, New Jersey. In 1945, he married Christine Trulock Cleveland. They raised four children: Chris Salter of Newnan, Georgia, Mary Corbitt of Pike Road, Alabama, Paul Cleveland of Savannah, Georgia and Peggy Whitley of Salisbury, North Carolina.

Weyman's children remember him as a man of integrity who practiced what he preached from pulpits throughout the South Georgia Conference of The United Methodist Church. "He was a true Southern gentleman - soft-spoken, humble and genuine - who loved the Lord and his family," Mary said. "We came from a legacy of Christ-centered families," Chris said. "My father's mother passed her faith on to him, and my father passed it on to us." Paul agrees. "My grandmother was a godly woman who influenced a lot of people," he said. "My dad's brother, Mike, was also a United Methodist pastor."

Weyman pastored churches in Faceville, Savannah Beach, Folkston, Eastman, Thomasville, Columbus, Savannah and Moultrie, Georgia. He also served as a Columbus district superintendent and chair of the Board of Pensions for the South Georgia Conference.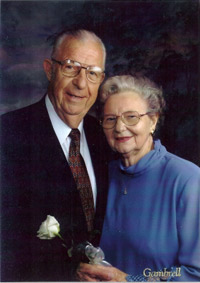 In 1984, Weyman was appointed to serve as the first executive director of the then South Georgia United Methodist Foundation. The North and South Georgia United Methodist Foundations merged in January 2010 to become the Georgia United Methodist Foundation.

Former board president Dr. Donald Kea recalls the Foundation's formative years. "There was a broad sense that a self-supporting entity needed to be formed to solicit and receive bequests and administer funds for the ministries of the South Georgia Conference. Weyman was the moving force behind the Foundation's formation," Donald said. "He was a very good businessman who knew a lot about investing and was very conservative fiscally. He was the obvious choice to have as the first full-time executive director."

Until his retirement in 1988, Weyman shared the Foundation's story while preaching, leading worship services, speaking at meetings and conducting wills clinics and personal interviews. He stressed the importance of having a valid will and the value of giving Christ a place along with other loved ones in the disposition of accumulated wealth. Weyman worked in concert with lawyers, accountants, bankers and insurance officers to acquaint United Methodists with what can be accomplished through Christian estate planning.

The Foundation's ministry flourished under Weyman's capable hands. Numerous endowment funds relating to missions, pensions and ministerial student scholarships were established. An increasing number of United Methodists also began naming churches and ministries as beneficiaries in their wills.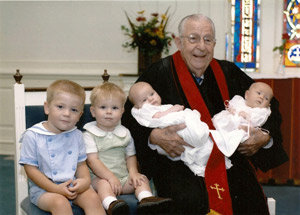 "Weyman was a planned giver who believed in tithing and stewardship of the resources God bestowed. His mantra was, 'To those who have much - much is expected.' The people he knew caught the vision of what planned giving can mean. It's the planting of seeds we will never see," Donald said. "We have an estate plan ourselves. I feel that this is the way in which we will leave the world better than we found it. Hopefully planned giving will spread to our children, and their children, and their children's children." Weyman's children were pleased that their father's estate plan stipulated that proceeds from the sale of his home were to be used to assist with housing needs of retired ministers in the South Georgia Conference and to fight world hunger. "Fellow ministers were a support system for him. Dad knew the Lord had blessed him, not only in his ministry, but financially as well. He wanted to give back," Peggy said. "My mom and dad shared their hopes and dreams together and also made missions and hunger relief a priority. In giving funds to help combat hunger, their dreams are becoming reality."

Dr. Weyman Cleveland's Reports Reveal Faith in God

The following excerpts were taken from reports Dr. Weyman Cleveland sent to the Foundation's board of trustees.

February 6, 1985: On June 14, 1984 we moved to an empty office in the city of Thomasville. With only a tremendous challenge and a daring faith we began. Each day has been filled with fresh enthusiasm and new awareness that we were in the hands of God. We face a future filled with limitless possibilities. With God's help we shall succeed.

December 1986: This whole concept of endowment-type support for the institutions and ministries of our conference is a new dimension of Christian stewardship for many of us and only time and continued interpretation will develop its full potential for Christ. The days ahead of us are promising. We are making a good beginning. Our future in this field is limited only by ourselves and the measure of our faith.

December 1, 1987: Every preaching occasion, contact, interview and seminar has been a Christ-centered ministry oriented event in which our risen Lord has been magnified. We have been rewarded by a gratifying amount of tangible results for which we give God the glory. I am confident that seed sown is producing and will continue to produce fruit not yet visible to us.

This article was originally published in the Fall 2011 edition of Faith & Money, a publication of the Georgia United Methodist Foundation.