Fort Family Legacy Helps Future Christian Leaders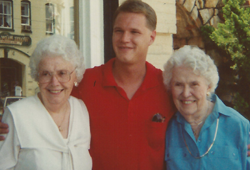 During the height of the depression, Robert Bridges and Mamie Phillips Fort scrimped and saved from his mail carrier salary so that their daughters, Mary and Edna, could attain a college education. The Forts' love of the Lord, Hamilton UMC and the surrounding community ignited within these two sisters a lifelong love of learning and devotion to The United Methodist Church.

In 1996, Mary and Edna established a $35,000 endowment with the then South Georgia United Methodist Foundation. They specified that each year the Columbus district superintendent distribute 80 percent of the annual earnings to support worthy and needy students studying in the field of Christian education and preparing for ordained ministry with The South Georgia Conference of The United Methodist Church.

To know Mary and Edna was to love them. "Both valued education. Mary was a history teacher at Columbus High School for over 40 years and received a lot of wonderful honors. Edna taught second grade in Thomasville for over 40 years," said niece Bettie Fort Edwards of Columbia, South Carolina. "They were humble, smart, funny, happy, caring, and fun-loving people who enjoyed life. They were deeply committed Christians and deeply committed to their church. They wanted to leave this legacy because of their commitment to education and their faith, which were so important to them."

Rev. Dan MacMinn served as pastor of Hamilton UMC from 1987 to 1993 when Mary and Edna were members. "They were dear, sweet ladies who were doers not just talkers. They taught Sunday school. They were women of prayer, and they were wonderful witnesses as to how their faith made a difference in their lives," he said. "They created a wonderful place where people could come and be loved and accepted, and that legacy still lives on at Hamilton church."

Betsy Stone grew up in Hamilton just down the street from the Fort family. "They were unselfish servants of the Lord," she said. "They worked all of their lives and realized the importance of frugality and stewardship of the resources that God had given them."

Mary passed away in 2002, and Edna followed two years later. The Foundation received over $834,000 from their estate. This significant increase in the Fort endowment has generated more than $66,000 in scholarship funding for students in the past two years alone.

"These two sisters had the foresight to see there would be a need for ministers long beyond our generation, and seeing that need, they made provision," said Northwest District Superintendent Dr. "Wherever people are in Columbus whose education is in Christian ministry, their names will be lifted up in gratitude."

This article was originally published in the Georgia United Methodist Foundation's 2012 Annual Report.